Two pieces composed for the 12 channel speaker system at The Black Diamond, The Royal Library, Copenhagen, commissioned by The Danish Composers' Society to coincide with the celebration of their 100th anniversary. The versions on this release are stereo mixes of the 12 channel versions.
Performed by Krishve
Recorded 2012-2013
Production and mastering by Krishve
Artwork by Krishve
VANDSPEJL
As a visitor to The Black Diamond you are close to the water, as if onboard a ship. Light is refracted and deflected by the huge window pane that faces the harbour and illuminates the entire space as waves of broken crystals. This watery voyage with its association to ship travel is a reflection on our passage through time, culture and history. The Diamond becomes an Ark of our common ancestry. Obviously an utopia in face of the impossibility to encapsulate the past, just as much as the future. Vandspejl is a slowly evolving work that lends itself to exploration. Each of the twelve speaker-voices being rather static, the changing perspective exposes new harmonies and combinations, as the listener shifts position and embraces the experience.
SURSTOF (RESPIRATION IV)
Breath, both as a function and as a symbol. A basic requirement for the body's preservation. Without breath, no life. The whisper of and inhalation and exhalation is even more intimate and tender than the singing voice. In spite of the absence of word or vocal sound, it is still possible to easily recognise a person's individual characteristics, just by the sound of their breath. As an intangible fingerprint. Breath takes on a new meaning when it is enlarged to the size of The Black Diamond's atrium and displayed in 12 loudspeakers distributed on three storeys. As if you are immersed in a huge lung. Inhalation. Exhalation. Cyclical waves embodied en warm air.
Speaker setup at The Royal Library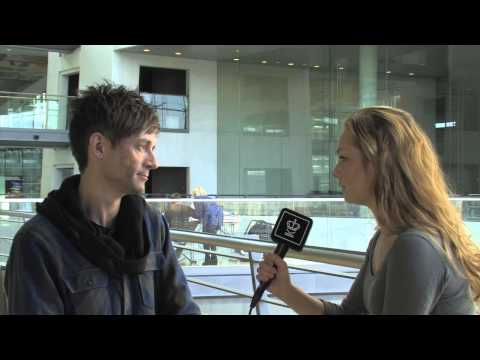 REVIEWS
Gonzo Circus
The Danish composer and sound designer Kristian Hverring aka Krishve does not create his work overnight, but with each release delves into the depths and finer meanings behind. He is a seeker, a doubter, one who regularly and voluntarily shuts the rest of the world out, but also likes come back and share his feelings with us. For example, "Apollo" (of the eponymous album) may be a winged oracle, and "Sort Diamant" the name of the new Royal Library in Copenhagen, but they are both much more. In "Apollo" he had almost given up hope of finishing it as the experience was so intense, but with the help of a close friend and some butterfly wings, it nevertheless all worked out well. Besides synthesizers and acoustic instruments Krishve also uses his body to create the sounds he seeks. This is clearly present in Surstof from "Sort Diamant", which is guided by a fascination for inhalation and exhalation since it is more fragile and intimate than singing, as a fingerprint of the elusive. In any case, it is intensely exciting. The other tracks are more ambient in nature, touching upon the dark and inwardly, but then again full of dreaming and gliding.
RifRaf
Happy birthday to the Danish Composers' Society, a hundred candles on the cake is worth celebrating. For the occasion, two pieces commissioned to the occasion for the twelve channel speaker cube of the Royal Danish Library in Copenhagen from the local artist Krishve, aka Kristian Hverring is available on the two track single 'Sort Diamant' (Clang Records). They prove to be a beautiful experience in levitation, where the cosmic of yesterday becomes a welcome pretext for a smooth surge at the margins of tonal music, providing a welcome boost of 'rock credibility' to the event and making us regret not having been present. The Danish artist is back with vigour on the five track EP 'Apollo', where he reveals an equally recommendable, delightful impressionistic touch. As you may have guessed from the title, cosmology plays a central role but it is not merely a lazy touch upon the star of happiness. Moving closer to the vision of Ligeti when he puts on his astronaut suit, Krishve adds many modern touches from roughness to sensuality, and he does it so convincingly that one can only admire and respect him. Hats off, sir.
Liquid Sky Berlin
Recently released on the ever active Clang-imprint is Krishve's latest single release "Sort Diamant", consisting of the two tracks Vandspeijl and Surstof (Respiration IV) that are both recommended to all lovers of ambient purism and warm, organic, slowly evolving drones and, which goes for the second tune only, to recordings of slightly exaggerated breathing which – in this case – seems to be a bit over the top and more disturbing than adding to the musical intention. In addition to Krishve's newest work, the CDr promo single also contains the five tracks of his "Apollo" E.P. , formerly released as cat.no. 005 of Clang's catalogue. Compared to his more recent output it is more headed towards classical ambient and chill-out, featuring soft piano notes and warm soundscapes partly interspersed with slightly dissonant vibrations and haunted, spine-tingling sequences – especially check out the two minute interlude Ear To The Ground for this – or even an intense, kinda Lynch'esque feel of nerve-wrecking tension and no release (Third Apology).
Whisperin' and Hollerin'
These two releases contain the kind of wispy, fragile ambient music that's so delicate, so sparse and so ethereal it's barely there. Some unexpected scratches, clatters and scrapes that spring from the wavering contrails of Apollo arrive as something of a surprise and unsettle the listener's state of calm; there's little to cling to in these evasive, illusive compositions.